Canada SONY BPS33 VGP-BPS33 Battery For Sony VAIO SVT-14 SVT-15 T2 T15 T SVT14124CXS SVT14118CC
Item Number: NSNBPS3343WHB6
Country: Canada
Battery Type: Li-Polymer
Battery Voltage: 11.4V
Battery Capacity: 3760mAh, 43Wh
Battery Color: White
Size: 186.10 x 101.40 x 8.30mm
Weight: 256g
Cells Amount: 6-Cells
Battery Cell Quality: Grade A
Description:

Original / Genuine Battery - 1 Year Warranty

Description:

Brand New, 1 Year Warranty

Total Sale: 371 Sold
* Please ensure the product(s) that you are going to buy fits the brand, model and part number of your device.
New, 1 Year Warranty!
30-Days Money Back!
Low Price
Fast Shipping!
"Ctr + D " Add This Page To Favorite .


* You are in Canada Professional Laptop Battery (Replacements) online store, Your rights and benefits are protected by law. Tracking order is easy: An email will tell you about the delivery time, the Tracking Number, the Tracking Url and 2 pictures of your package after your item was sent out. (Tracking order >>)
* Why order this item from us?

Click here to enlarge

Li-Polymer battery pack, 11.4V SONY BPS33 VGP-BPS33 Battery For Sony VAIO SVT-14 SVT-15 T2 T15 T SVT14124CXS SVT14118CC
In Stock

Original price:

CAD $ 210.32

Local Price:


CAD $ 112.96


( Updated: Jan 2021 )
You Save:

CAD $ 97.36
Accept
Paypal
/
Credit / Debit Card
!

This Laptop Battery Description:

Compatible mainbody Numbers:
Fit Machine Model:
Sony
SVT14, SVT14112CXS, SVT14113CNS, SVT14113CV, SVT14113CVS, SVT14113CX, SVT14115CV, SVT14115CVS, SVT14115CW, SVT14115CXS, SVT14116PN, SVT14116PNS, SVT14117CGS, SVT14117CHS, SVT14117CW, SVT14117CXS, SVT14118CC, SVT14118CCS, SVT1411BPXS, SVT14123CNS, SVT14124CXS, SVT14125CXS, SVT14125PNS, SVT14126CNS, SVT14126CV, SVT14126CVS, SVT14126CW, SVT14126CXS, SVT14127CG, SVT14127CGS, SVT14127CH, SVT14127CHS, SVT14127CSX, SVT14128CC, SVT141290X, SVT14129CC, SVT14129CCS, SVT141A11L, SVT141C11L, SVT141C11T, SVT141C11w, SVT15, SVT15112CXS, SVT15113CDS, SVT15115cxs, svt15117cds, SVT151190X, SVT1511ACXS, SVT1511M1E, SVT1511M1E/S, SVT151A11L, VAIO SVT-14 Touchscreen Ultrabooks, VAIO SVT-15 Touchscreen Ultrabooks, Vaio SVT14127CXS, VAIO SVT141A11L, Vaio SVT15117CXS, VAIO SVT151A11L, Vaio SVT151A11L Ultra Book TouchScreen, Vaio svt151a11m, Vaio SVT151AllL, Vaio SVT15CDS117, VAIO T Touchscreen Ultrabooks Series, VAIO T Touchscreen Ultrabooks Series SVT15115CXS, VAIO T14 Series, VAIO T14 Touchscreen Ultrabooks, VAIO T15 Series, VAIO T15 Touchscreen Ultrabooks Series, VGP-BPS33,
Sony T2 Series
Vaio T Series.
SONY BPS33 VGP-BPS33 Battery For Sony VAIO SVT-14 SVT-15 T2 T15 T SVT14124CXS SVT14118CC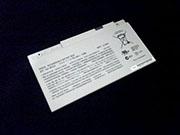 Today Canada Local Price:
CAD $ 112.96
(
Free Shipping, 9~17 Days In Canada
)
Visite This Item By Mobile

SONY Replacement Laptop Batteries, Notebook Batteries
SONY BPS33 VGP-BPS33 Battery For Sony VAIO SVT-14 SVT-15 T2 T15 T SVT14124CXS SVT14118CC
https://www.canada-laptop-battery.com/canada-battery-sony-3587.html
Keep it in a cool place-Do not let the battery in a high temperature (over 35 degrees Celsius). Ideal in under 25 degrees Celsius.
Unplug when it is fully charged-Do not plug when it is charged fully (do not charge over night).
Plug when it is in low level-Should plug when the battery level is under 15%.
Battery calibration doesn't extend its life, rather its purpose is to calibrate its state of charge against the laptop's "fuel gauge" so the laptop knows when to charge, stop charging, or shut down the laptop when battery charge is depleted - the reason calibration becomes necessary is because the battery's discharge curve changes as it ages.
It won't hurt anything to go through the calibration cycle, and doing it will give you the confidence that the fuel gauge will accurately reflect the battery's state of charge, at least for a couple of years depending on how you use your laptop.
One battery has 400 mAh more, and this affects both how long it will last and the amp output.
Amp output assuming it is a 1C battery then:
4400/1000 = Ah 4.4 (this is to convert mAh to Ah)
4800/1000 = 4.8 Ah
and C*Ah= Amp Output so the numbers remain unchanged and the bigger battery will output 400 mA (.4A) more current
as for how much longer the other will last:
4.4 Ah at 4 amp draw the bigger battery would (theoretically, but voltage drop between the two batteries may make this false) last 6 minutes longer.