Canada New OEM L12M4E01 L12S4E01 Battery For Lenovo IdeaPad G400s G510s Series Laptop
Item Number: NLVL12L4E0142WHB4O
Country: Canada
Battery Type: Li-ion
Battery Voltage: 14.8V
Battery Capacity: 2600mAh
Battery Color: Black
Size: 272.40 x 37.50 x 19.80mm
Weight: 225g
Cells Amount: 4-Cells
Battery Cell Quality: Grade A
Description:

New, 1 Year Warranty

Description:

Brand New, 1 Year Warranty

Total Sale: 69 Sold
* Please ensure the product(s) that you are going to buy fits the brand, model and part number of your device.
New, 1 Year Warranty!
30-Days Money Back!
Low Price
Fast Shipping!
"Ctr + D " Add This Page To Favorite .


* You are in Canada Professional Laptop Battery (Replacements) online store, Your rights and benefits are protected by law. Tracking order is easy: An email will tell you about the delivery time, the Tracking Number, the Tracking Url and 2 pictures of your package after your item was sent out. (Tracking order >>)
* Why order this item from us?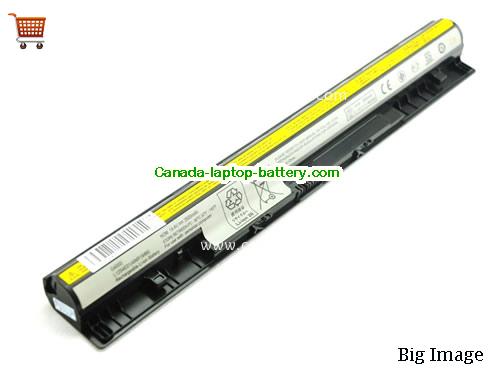 Click here to enlarge

Li-ion battery pack, 14.8V New OEM L12M4E01 L12S4E01 Battery For Lenovo IdeaPad G400s G510s Series Laptop
In Stock

Original price:

CAD $ 98.12

Local Price:


CAD $ 56.86


( Updated: Feb 2019 )
You Save:

CAD $ 41.26
Accept
Paypal
/
Credit / Debit Card
!

This Laptop Battery Description:

Compatible mainbody Numbers:
Fit Machine Model:
Lenovo
IdeaPad 2710, IdeaPad Z501, IdeaPad Z70, Z50-70,
Lenovo Ideapad Series
ideapad 20299, IdeaPad G400s Series, IdeaPad G400s Touch Series, IdeaPad G405s Series, IdeaPad G405s Touch Series, IdeaPad G410s Series, IdeaPad G410s Touch Series, IdeaPad G500s Series, IdeaPad G500s Touch Series, IdeaPad G505s Series, IDEAPAD G505S TOUCH, IdeaPad G505s Touch Series, IdeaPad G510s Series, IDEAPAD G510S TOUCH, IdeaPad G510s Touch Series, IdeaPad S410p Series, IdeaPad S410p Touch Series, IdeaPad S510p Series, IdeaPad S510P TOUCH, IdeaPad S510p Touch Series, IdeaPad Z40-70, IdeaPad Z50-70, IdeaPad Z710 Series.
New OEM L12M4E01 L12S4E01 Battery For Lenovo IdeaPad G400s G510s Series Laptop
Today Canada Local Price:
CAD $ 56.86
(
Free Shipping, 9~17 Days In Canada
)
Visite This Item By Mobile

LENOVO Replacement Laptop Batteries, Notebook Batteries
New OEM L12M4E01 L12S4E01 Battery For Lenovo IdeaPad G400s G510s Series Laptop
https://www.canada-laptop-battery.com/canada-battery-lenovo-4833.html