Canada New ASUS A42-G750 A42G750 Battery For Asus G750 G750JH G750JM Laptop
Item Number: NAA42G75088WHB8O
Country: Canada
Battery Type: Li-ion
Battery Voltage: 15V
Battery Capacity: 5900mAh, 88Wh
Battery Color: Black
Size: 139.69 x 69.60 x 39mm
Weight: 380g
Cells Amount: 8-Cells
Battery Cell Quality: Grade A
Description:

New, 1 Year Warranty

Description:

Brand New, 1 Year Warranty

Total Sale: 504 Sold
* Please ensure the product(s) that you are going to buy fits the brand, model and part number of your device.
New, 1 Year Warranty!
30-Days Money Back!
Low Price
Fast Shipping!
"Ctr + D " Add This Page To Favorite .


* You are in Canada Professional Laptop Battery (Replacements) online store, Your rights and benefits are protected by law. Tracking order is easy: An email will tell you about the delivery time, the Tracking Number, the Tracking Url and 2 pictures of your package after your item was sent out. (Tracking order >>)
* Why order this item from us?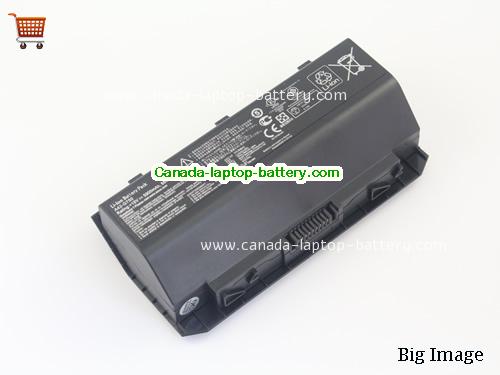 Click here to enlarge

Li-ion battery pack, 15V New ASUS A42-G750 A42G750 Battery For Asus G750 G750JH G750JM Laptop
In Stock

Original price:

CAD $ 164.94

Local Price:


CAD $ 90.27


( Updated: Mar 2019 )
You Save:

CAD $ 74.67
Accept
Paypal
/
Credit / Debit Card
!

This Laptop Battery Description:

Compatible mainbody Numbers:
Fit Machine Model:
Asus
G750, G750 jm, G750GM-BSI7N23, G750J, G750JH, G750JH-DB71, G750JH-T4070H, G750JH-T4080H, G750JM, G750JM-BSI7N23, G750JM-BSI7N24, G750JM-DB71-CA, G750JM-DS71, G750JM-T4014H, G750JM-T4018P, G750JM-T4111H, G750JS, G750JS-DS71, G750JS-NH71, G750JS-RS71, G750JS-T4001H, G750JS-T4008H, G750JS-T4023H, G750JS-T4064H, G750JS-T4068H, G750JS-T4069H, G750JS-T4129H, G750JS-T4193H, G750JW, G750JW-BBI7N05, G750JW-DB71, G750JW-DB71-CA, G750JW-DH71, G750JW-NH71, G750JW-RB71, G750JW-T4030H, G750JW-T4042H, G750JW-T4099H, G750JX, G750JX-CV025H, G750JX-CV069P, G750JX-DB71, G750JX-IB71, G750JX-T4101D, G750JX-T4204H, G750JX-T4259H, G750JX-T4264H, G750JX-TB71, G750JZ, G750JZ-DB73-CA, G750JZ-DS71, G750JZ-RB73-CA, G750JZ-T4004H, G750JZ-T4013H, G750JZ-T4023H, G750JZ-T4044H, G750JZ-T4110H, G750JZ-T4172H, G750JZ-XS72, G750M-T4018P, G75LM2H-G750JM, gm750,
Asus Rog Series
ROG G750, ROG G750GM-BSI7N23, ROG G750J, ROG G750JH, ROG G750JH-DB71, ROG G750JH-QS71-CB, ROG G750JH-T4070H, ROG G750JH-T4080H, ROG G750JM, ROG G750JM-BSI7N23, ROG G750JM-BSI7N24, ROG G750JM-DB71-CA, ROG G750JM-DS71, ROG G750JM-T4014H, ROG G750JM-T4018P, ROG G750JM-T4111H, ROG G750JS, ROG G750JS-DS71, ROG G750JS-NH71, ROG G750JS-RS71, ROG G750JS-T4001H, ROG G750JS-T4008H, ROG G750JS-T4023H, ROG G750JS-T4064H, ROG G750JS-T4068H, ROG G750JS-T4069H, ROG G750JS-T4129H, ROG G750JS-T4193H, ROG G750JW, ROG G750JW-BBI7N05, ROG G750JW-DB71, ROG G750JW-DB71-CA, ROG G750JW-DH71, ROG G750JW-NH71, ROG G750JW-RB71, ROG G750JW-T4030H, ROG G750JW-T4042H, ROG G750JW-T4099H, ROG G750JX, ROG G750JX-CV025H, ROG G750JX-CV069P, ROG G750JX-DB71, ROG G750JX-IB71, ROG G750JX-T4101D, ROG G750JX-T4204H, ROG G750JX-T4259H, ROG G750JX-T4264H, ROG G750JX-TB71, ROG G750JZ, ROG G750JZ-DB73-CA, ROG G750JZ-DS71, ROG G750JZ-RB73-CA, ROG G750JZ-T4004H, ROG G750JZ-T4013H, ROG G750JZ-T4023H, ROG G750JZ-T4044H, ROG G750JZ-T4110H, ROG G750JZ-T4172H, ROG G750JZ-XS72.
New ASUS A42-G750 A42G750 Battery For Asus G750 G750JH G750JM Laptop
Today Canada Local Price:
CAD $ 90.27
(
Free Shipping, 9~17 Days In Canada
)
Visite This Item By Mobile

ASUS Replacement Laptop Batteries, Notebook Batteries
New ASUS A42-G750 A42G750 Battery For Asus G750 G750JH G750JM Laptop
https://www.canada-laptop-battery.com/canada-battery-asus-4653.html