Canada Genuine A41-K56 battery for ASUS K46 S56 S46CM S505 S505C E46CA laptop 15V
Item Number: NASA41K5644WHB4
Country: Canada
Battery Type: Li-ion
Battery Voltage: 15V
Battery Capacity: 2950mAh, 44Wh
Battery Color: Black
Size: 285.70 x 33.50 x 20.70mm
Weight: 220g
Cells Amount: 4-Cells
Battery Cell Quality: Grade A
Description:

Original / Genuine Battery - 1 Year Warranty

Description:

Brand New, 1 Year Warranty

Total Sale: 756 Sold
* Please ensure the product(s) that you are going to buy fits the brand, model and part number of your device.
New, 1 Year Warranty!
30-Days Money Back!
Low Price
Fast Shipping!
"Ctr + D " Add This Page To Favorite .


* You are in Canada Professional Laptop Battery (Replacements) online store, Your rights and benefits are protected by law. Tracking order is easy: An email will tell you about the delivery time, the Tracking Number, the Tracking Url and 2 pictures of your package after your item was sent out. (Tracking order >>)
* Why order this item from us?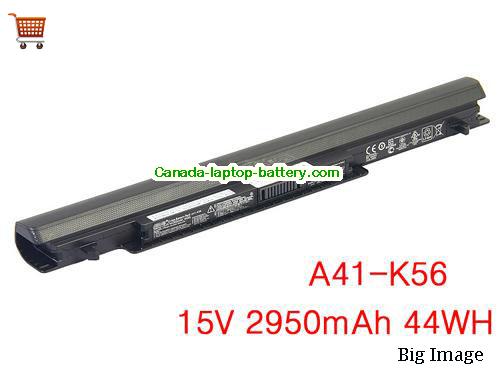 Click here to enlarge

Li-ion battery pack, 15V Genuine A41-K56 battery for ASUS K46 S56 S46CM S505 S505C E46CA laptop 15V
In Stock

Original price:

CAD $ 108.34

Local Price:


CAD $ 61.97


( Updated: Apr 2018 )
You Save:

CAD $ 46.37
Accept
Paypal
/
Credit / Debit Card
!

This Laptop Battery Description:

Compatible mainbody Numbers:
Fit Machine Model:
Asus
E46CA, K46, K56CA, K56CB, R505C, R505CB, S46CM, S505, S505C, S550CA, S550cb, S56, V550-CB,
Asus K46 Ultrabook
K46C,
Asus S46 Ultrabook
S46CA,
Asus S56 Ultrabook
S56C, S56CA.
Genuine A41-K56 battery for ASUS K46 S56 S46CM S505 S505C E46CA laptop 15V
Today Canada Local Price:
CAD $ 61.97
(
Free Shipping, 9~17 Days In Canada
)
Visite This Item By Mobile

ASUS Replacement Laptop Batteries, Notebook Batteries
Genuine A41-K56 battery for ASUS K46 S56 S46CM S505 S505C E46CA laptop 15V
https://www.canada-laptop-battery.com/canada-battery-asus-4169.html